With the strong development of the economy and the trend of expanding FDI investment systems, the development of deep-water ports and waterway transportation infrastructure to serve economic trade with the world is crucial.
The trend of expanding FDI investment systems is being strongly promoted in all areas of social life. In particular, the development of waterway transportation and deep-water ports to serve trade is being strongly promoted through a multi-purpose vehicle capable of carrying SUPER-HEAVY PROJECTS – also known as barges.
Specifically, barges are a type of waterway transportation vehicle with a large capacity used to transport large quantities of goods and equipment. In addition, the reason barges are widely used is due to their large size, stable operating capacity even in adverse weather conditions, and flexibility in transportation.
Common types of barges:
As of now, there are three common types of barges used in Vietnam:
Self-propelled barges:
This type of barge is equipped with an engine and does not depend on any other vehicle to be able to move. Self-propelled barges are widely used and are considered a common waterway transportation vehicle.
Non-self-propelled barges:
This type of barge cannot move on its own and must be towed or pushed by a tugboat. Although not as active as self-propelled barges, non-self-propelled barges have the advantage of large capacity and load-bearing capacity, making them one of the solutions for transporting construction materials as well as bulky machinery.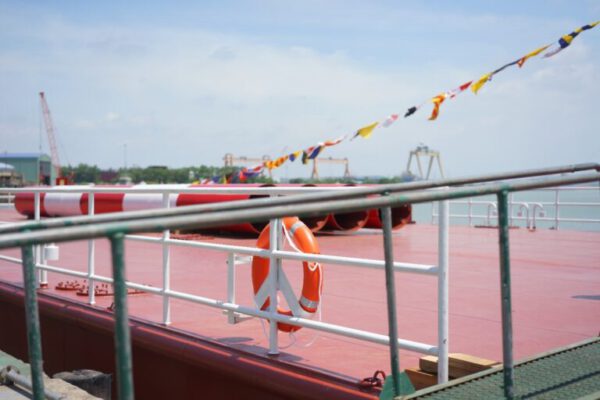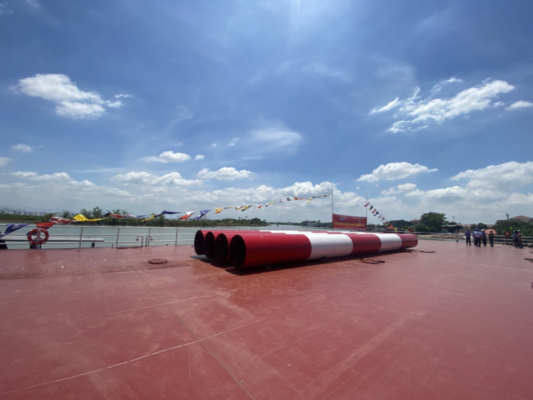 SL-68 designed signs of Sà Lan Ponton are equipped with high-power engines and spacious cargo areas, making it capable of transporting heavy and bulky goods, as seen in Duafat.
Self-lifting gantry crane
This type of gantry crane can lift and transport goods on its own, saving maximum labor costs and ensuring perfect loading and unloading. This is also highly appreciated by individuals and businesses for its ability to minimize costs.
Why use gantry cranes instead of other waterway transport vehicles
Gantry cranes solve almost all the remaining problems of current waterway transportation vehicles. From transporting goods, large machinery to becoming a sturdy support for foundation construction equipment in river, sea and offshore areas.
For transportation, gantry cranes can carry many types of products with various sizes and materials, ensuring the quality of products even for oversized items.
Many people misunderstand the functions and designs of cargo ships and gantry cranes, but in reality, cargo ships usually operate on the ocean, transporting goods over long distances, while gantry cranes can move in shallow water – where cargo ships cannot operate.
Gantry cranes have a very high capacity, transporting anything from containers to passengers, and are even equipped with devices such as cranes to serve construction on the water surface for bridges, oil rigs, etc.
Using gantry cranes for goods transportation significantly contributes to ensuring production progress, reducing traffic congestion due to waterways being shorter than roads and fewer vehicles circulating.
As a leading company in foundation construction, ports and offshore wind power in Vietnam, more than anyone, Duafat Group understands the role of gantry cranes in waterway transportation and foundation construction of ports and offshore projects.
In addition, with the orientation of "conquering the sea", Duafat determines that the offshore construction method has its own unique characteristics and requires careful investment and a high level of specialized machinery and equipment, therefore, it is necessary to equip a stable buoyancy system, suitable for the dynamic weather format and heavy rain and storms like Vietnam's sea.
This is clearly demonstrated by the fact that in recent years, Duafat has continuously signed and cooperated with leading shipbuilding companies in Vietnam to research, produce and launch large-capacity self-lifting gantry cranes such as SNN 01-02, Duafat 06 (90M/JUB90-01), JUB40…
Let's take a look at some "super products" of Duafat Group Joint Stock Company: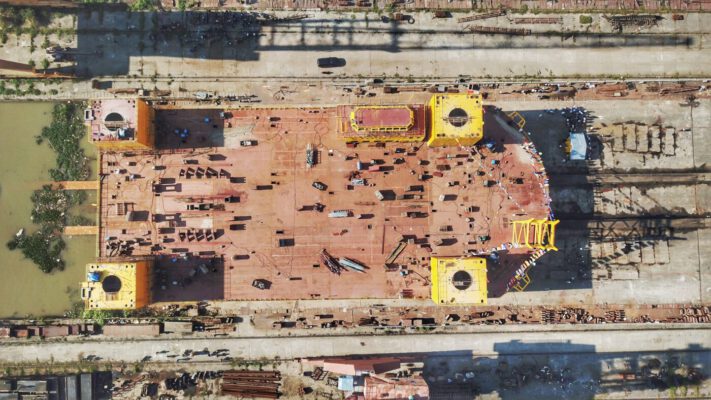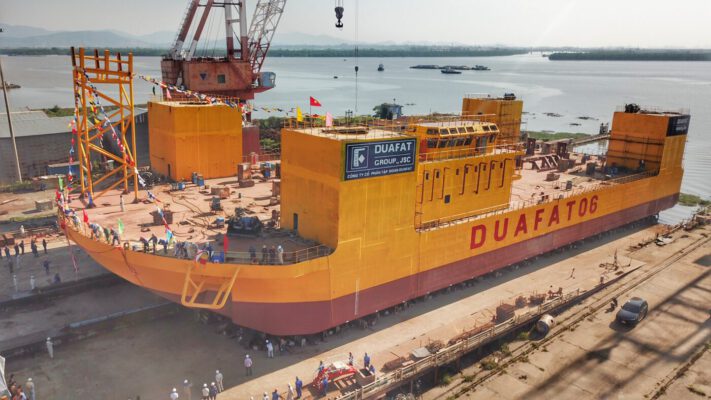 Hình ảnh sà lan tự nâng Duafat 06 tại lễ hạ thủy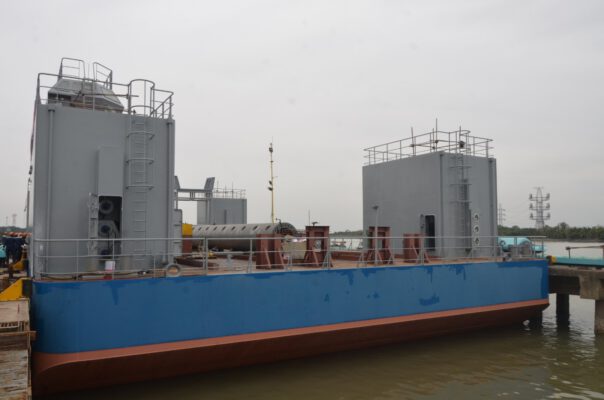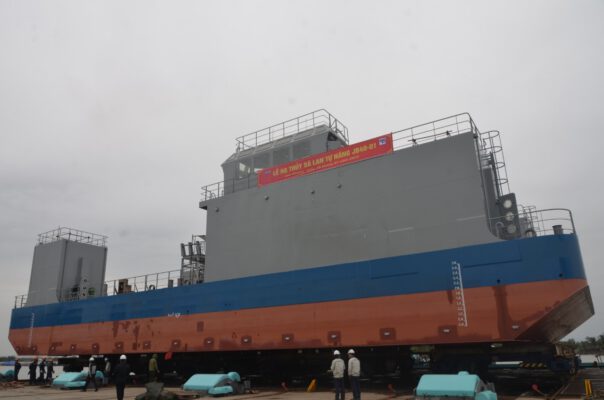 Sà lan tự nâng ký hiệu JUB40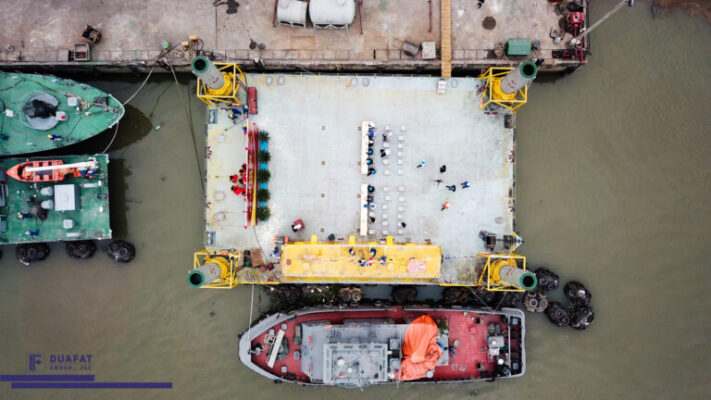 Sà lan tự nâng (Ký hiệu thiết kế SNN 01-02) do Công ty MTV Đóng tàu Hồng Hà và Công ty Cổ phần Tập đoàn Đua Fat hợp tác sản xuất