On January 16, 2023, in Hai Phong, the launching ceremony of JUB40 salvage vessel was successfully held. The event was attended by the management boards of Duafat Corporation, Vietnam-Korea Ship Design and Equipment Services Corporation, 189 Member Limited Liability Company, and a large number of officials and engineers from the investor and production units.
At the launching ceremony, a representative of Duafat Corporation stated that in anticipation of the new trend of maritime economic development, for many years Duafat has continuously invested in modern equipment and particularly in self-lifting salvage vessels. Currently, Duafat is one of the leading companies owning a large number of salvage vessels, especially those with large load capacity in Vietnam.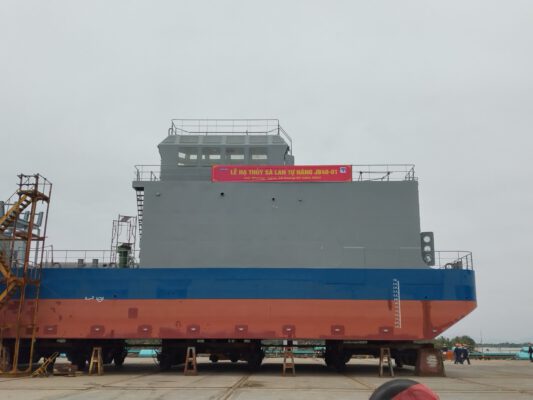 Launching the JUB40 barge on schedule is a solid foundation for Duafat to continue its goal of becoming a highly competitive contractor with enough capacity to meet the most stringent requirements for construction, installation of coastal and offshore structures.
On the production side, representatives of 189 Joint Stock Company expressed deep gratitude to Duafat Corporation and functional units for their coordination and facilitation of the production of the self-lifting JUB40 barge on schedule.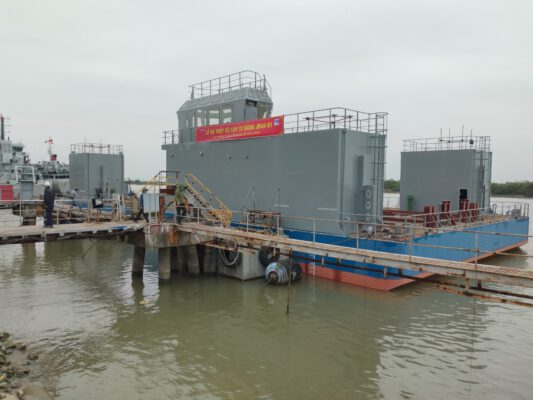 JUB40 self-elevating barge has a maximum length (Lmax) of 40m, maximum width (Bmax) of 20m, freeboard height (D) of 3.6m, and design draft of 2m.
JUB40 is designed as a crane vessel (lifting and transporting cargo) consisting of the main hull, 4 legs (each with a length of 50m), and a lifting system. The barge is equipped with 1 crane located at the stern. The upper deck area is located on the port side.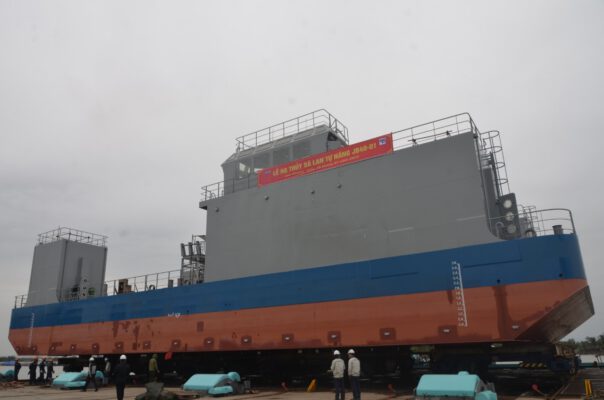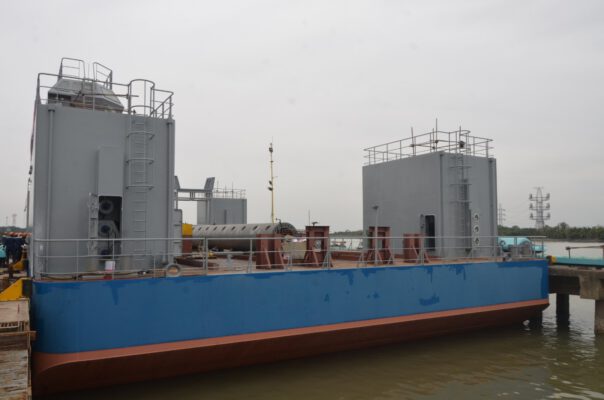 The bow area and the nose area of the structure are built according to the horizontal system, while the middle area of the structure is built according to the vertical system.
The entire structure is made of high-strength shipbuilding steel, including cast and forged steel produced by a quality assurance process and approved by regulatory agencies.
The self-lifting crane is designed to operate in the coastal areas of Vietnam, with a maximum load capacity of 200 tons, specializing in wind power installation and offshore construction projects.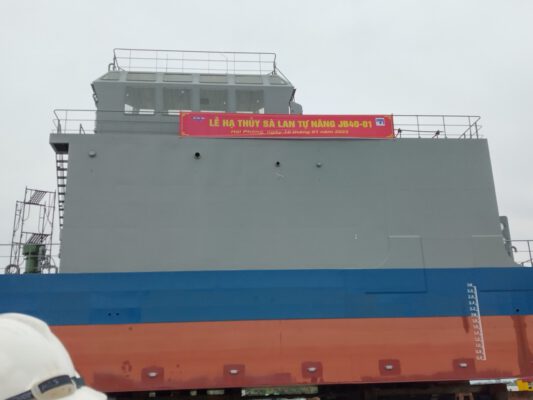 Salan self-lifting JUB40 successfully launched again, marking an important milestone in the development process towards becoming a leading offshore foundation, bridge and energy construction company in Vietnam for the Duc Fat Group Corporation. This also marks the successful cooperation among three parties: Viet Han Ship Design and Technology Company Limited; 189 Member Limited Liability Company and opens up new opportunities for the future.
Ban truyền thông