14 years of affirming its position
Dua Fat Corporation, formerly known as Dua Fat Foundation Corporation, was established on June 29, 2009. In 2020, it announced its transformation into Dua Fat Group Corporation (Duafat Group), marking a new phase of development with the vision of becoming a leading foundation construction conglomerate in Vietnam and the Southeast Asian region.
Over the course of 14 years of formation and development, Duafat Group has gradually asserted its leading position in the field of foundation construction by continuously introducing world-class technologies, techniques, solutions, and equipment for foundation construction to Vietnam.
The greatest strength of Duafat Group lies in its possession of world-leading technologies in foundation construction, port and waterway construction, along with an outstanding system of advanced and superior equipment. Particularly, throughout the process of accumulating experience from technical teams, workers, and construction systems, there has always been a seamless coordination in accordance with the operational motto: "The best quality, the fastest progress, and the most reasonable cost." With its expertise and construction experience, Duafat Group has provided the best and most reasonable solutions for investors, contributing significantly to the success of projects and ensuring safety, quality, and timely completion for the clients. Duafat Group has also become a trusted "companion" chosen by many major investors, such as Hoa Phat Group, Trung Nam Group, Taseco, Lotte, and more.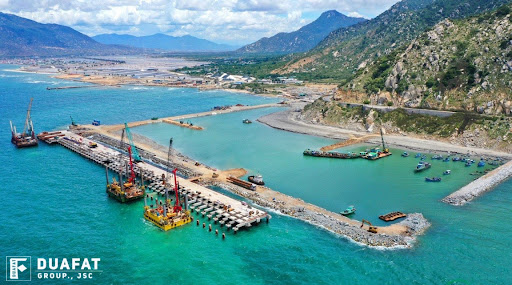 Hoa Phat Dung Quat Integrated Steel Complex, Quang Ngai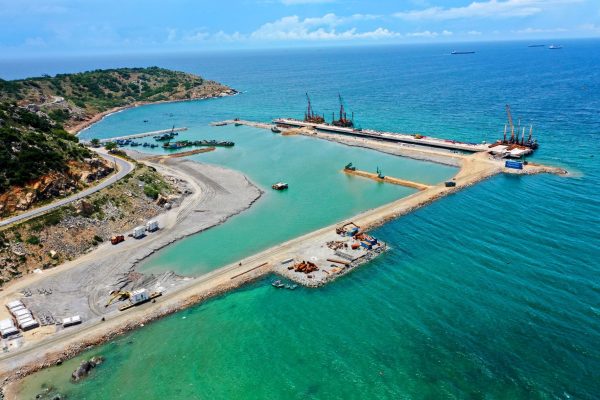 Ca Na Port, Ninh Thuan
Duafat Group has left its mark on numerous key projects throughout the country, such as the Hoa Phat Dung Quat Iron and Steel Complex in Quang Ngai, the Ca Na Port in Ninh Thuan, the Bach Dang Bridge (the largest bridge in the country and the third among the seven cable-stayed bridges with the most spans in the world, featuring four cable-stayed spans), and the Cua Luc 1, 2, 3 Bridges. It has also been involved in cement plants such as Long Son, Thanh Thang, Xuan Thanh, Tan Thang, as well as the Huong Tan Quang Tri Wind Power Plant, the EANAM Gia Lai Wind Power Plant, and high-end hotel and residential complex projects.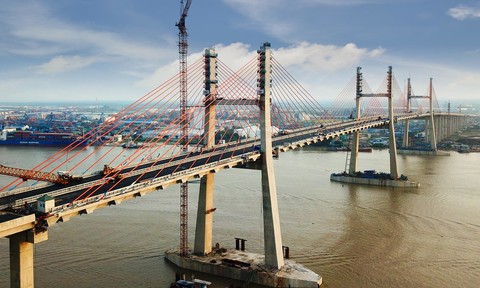 Bach Dang Bridge
In particular, at the beginning of 2022, the Corporation officially reached new heights as the investor in the Duafat Group Kim Son Multifunctional Service Port project, located in Kim Tan commune, Kim Son district, Ninh Binh province, with a construction scale of 172,716.4 square meters and a total investment of 450 billion Vietnamese dong.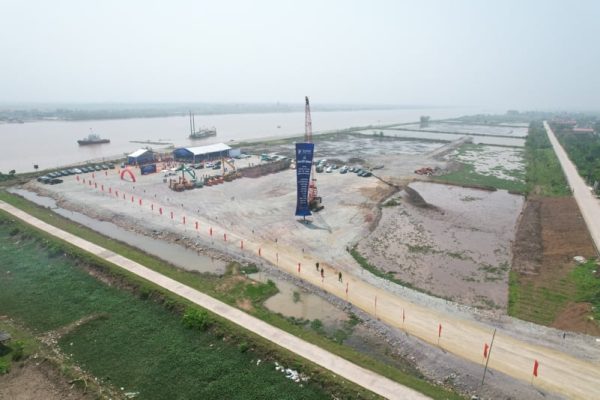 Kim Son Seaport Project, Ninh Binh
Accumulate internal strength, equip modern equipment systems, and invest in human resources.
Throughout its 14 years of formation and development, Duafat Group has always adhered to the principle of sustainable development, creating long-term value for the company and the community. It invests simultaneously in technology, modern machinery, and the training of skilled engineers and workers to meet the quality requirements of the work.
In 2021, Duafat Group continuously added a series of machines worth billions of Vietnamese dong: 5 SANY SR285R pile drilling machines, 02 self-elevating barges (designated as SNN 01-02) – marking an important milestone for Vietnamese enterprises to independently manufacture barges with technical specifications comparable to those of professional corporations worldwide.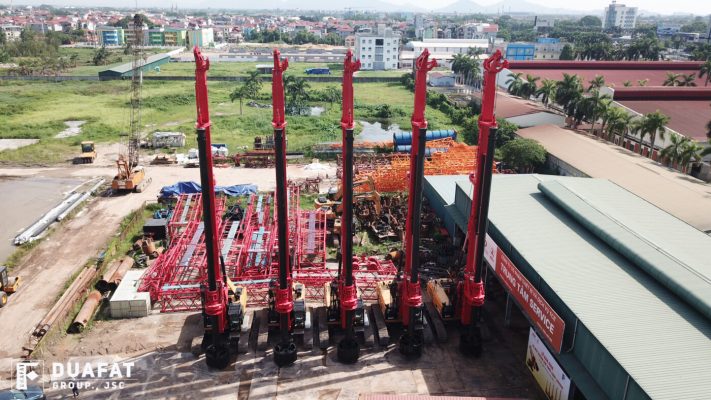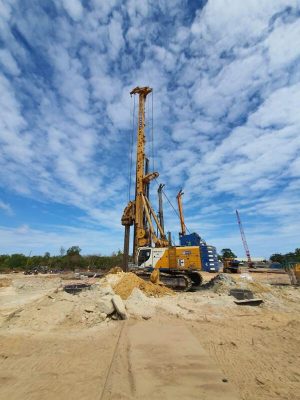 In 2022, Duafat Group continued to strengthen its long-term strategic partnership with Hong Ha Shipbuilding Corporation by signing a collaboration agreement to produce larger capacity self-elevating platforms. At the end of 2022, the self-elevating platform Duafat 06, with the registration number 90M/JUB90-01, was successfully launched, marking a significant advancement in the field of offshore construction, installation, and wind power plants in Vietnam. This equipment, with leading capacity and payload in the market, was researched and manufactured based on the practical conditions of the climate and terrain in the coastal region of Central Vietnam, which is frequently affected by storms and floods. This ensures safe construction conditions, even during inclement weather conditions.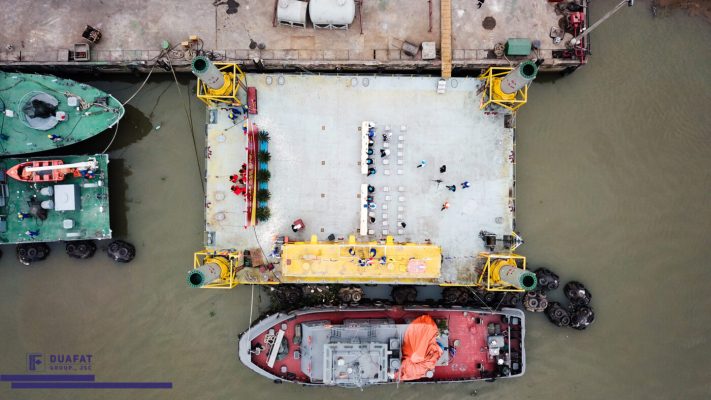 Self-lifting barge (Designation: SNN 01-02), vessel number 02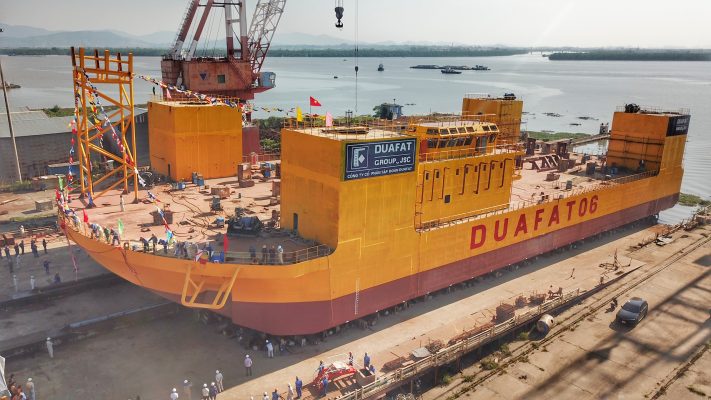 Self-lifting barge Dua Fat 06
In addition, the company's leadership also places special emphasis on physical and sports activities, as well as social welfare. Starting from 2022, Duafat Group has been organizing a Full Scholarship Program, providing annual training support for the children of families in difficult circumstances, remote areas, who aspire to access promising career opportunities. Furthermore, Duafat Group directly participates in and supports Military Corps in their efforts to assist military personnel after discharge, providing them with opportunities for training and high-income employment.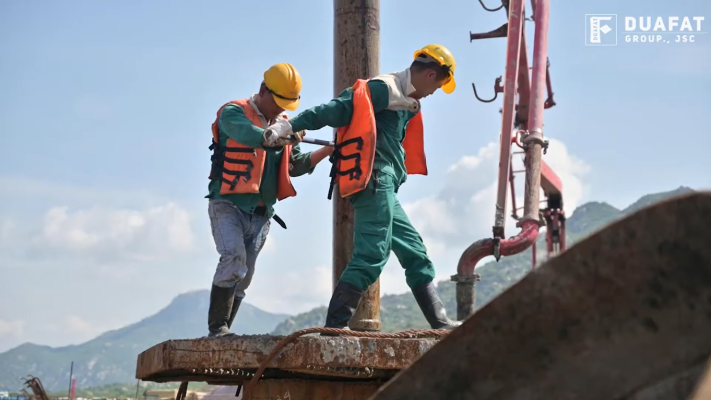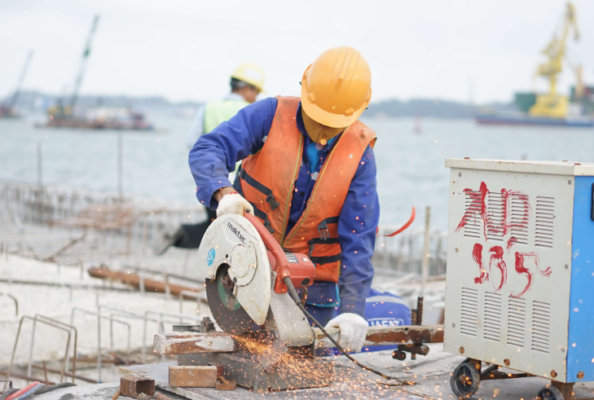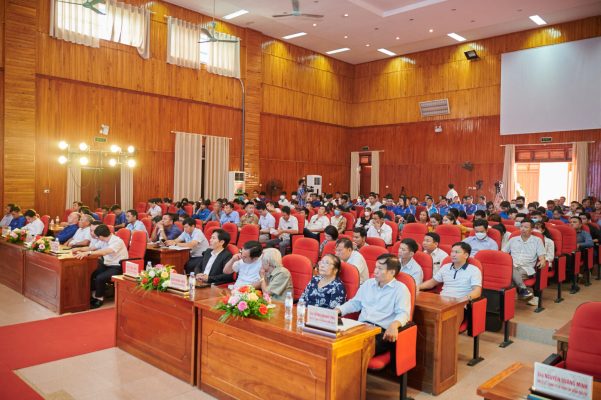 Scholarship award and enrollment in Thanh Chuong District, Nghe An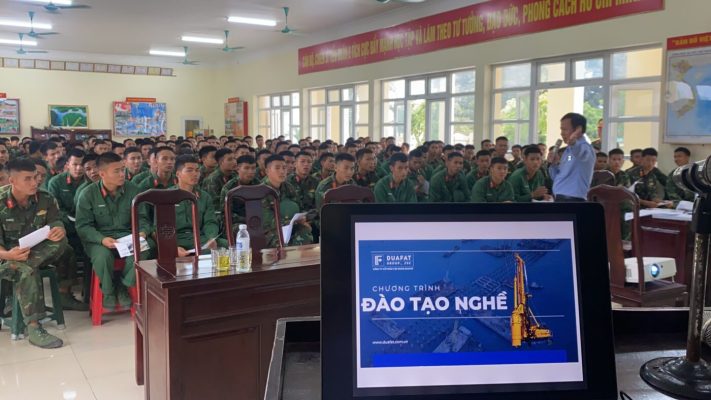 Career counseling at the 324th Division
In the sports field, Duafat Group has successfully organized multiple seasons of the DuaFat Opencup, a professional amateur 11-a-side football tournament, creating a healthy playground, connecting business sectors, and contributing to the development of football in Vietnam.
Vision in the New Phase
In the context of the country's economy facing many difficulties due to the post-Covid-19 wave and global economic recession, Duafat Group continues to maintain and focus on accumulating internal resources, accessing modern machinery and technology worldwide, and training a skilled and experienced technical team familiar with the complex geology in Vietnam. This strategy demonstrates the far-reaching vision of the company's leadership in preparing all resources for the macroeconomic recovery. Duafat Group is ready to be the basic infrastructure development unit that meets the needs of various entities.
Looking back at the 14-year journey since the establishment of Duafat Group, we cannot help but be amazed at the successes it has achieved. The creativity, innovation, and dedication of the leadership and the collective of employees may have helped Duafat Group overcome every challenge, consistently asserting its position in the industry. A new path with new advancements has opened up, and Duafat Group is exploring and developing the most advanced technologies, investing in machinery and human resources to create differentiation and continuous growth, taking our country's foundation construction, ports, and offshore energy industry to the vast ocean, confidently competing to establish Vietnam's position on the world map.