Following the success of BG36, BG42 or BG46 – the latest model from Bauer, BG25 is also one of the stuffed pile drilling machines selected by Duafat to participate in many important projects. Owning a series of durable and modern pile drilling machines helps Duafat always ensure the quality and construction schedule for investors.
As a generation of equipment carrying the standard CAT engine, BG25 owns a modern Kelly drilling system and quality drill bits, BG25 has an operating weight of up to 70 tons, a traction force of 260kN and a bore depth of 57m, with strong working capacity and durability, BG25 is a series of bored pile drilling machines that can be guaranteed to suit a variety of working conditions, such as:
Drilling piles using casing wall pipes (Casing with Bullhead or optional equipment installed by hydraulic shakers – both extracted forces of Bauer drilling machines)
The drilling piles without Bauer's casing wall tubes are stabilized with drilling solution.
Drill piles with chicken gut drill bits (CFA system) – with or without additional extensions need kelly
Fixed pile drilling.
Currently, BG25 is commonly used in high-rise buildings with a large construction density but with a relatively moderate perimeter and area. BG25's robust and durable working system has demonstrated that it is one of the perfect machines for contractors to handle the foundation of the building.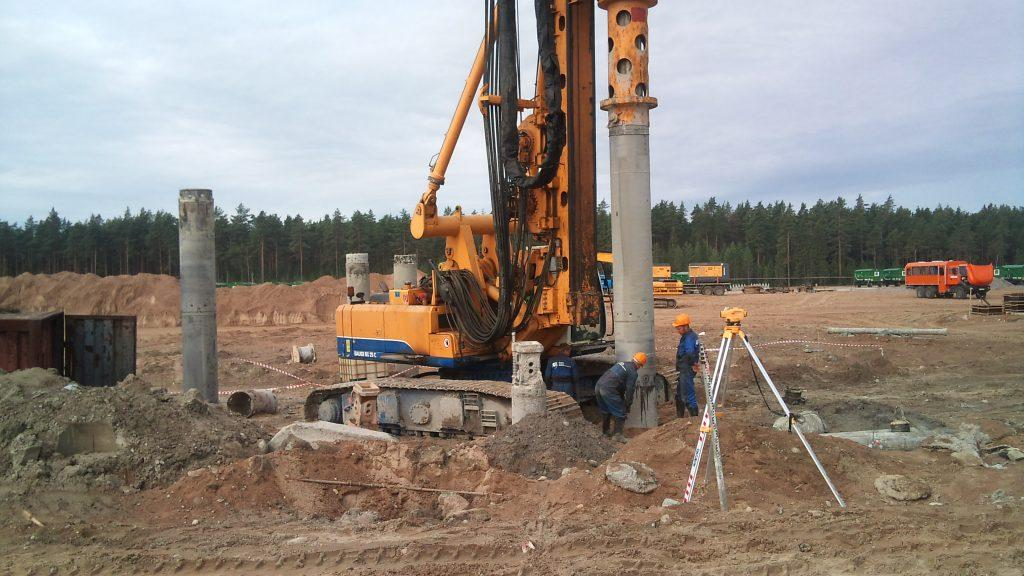 Photos of engineers using BAUER BG25 drills at the site
SPECIFICATIONS OF BAUER BG25 PILE DRILLING MACHINE.                                                      
| | | |
| --- | --- | --- |
| Drilling  : 57m  | ÉP TỜI | ÉP XI LANH |
| TOTAL HEIGHT | 22.840 mm | 22.840 mm |
| BULLHEAD ENGINE | KDK 245K | KDK 245K |
| Rotation torque | 245 kNm | 245 kNm |
| Max Rotation Speed | 30U/min (RPM) | 37U/min (RPM) |
| BULLHEAD PRESSING SYSTEM |   |   |
| Pressure/pulling | 260/260 KN | 200/260 KN |
| Itinerary (system needs kelly) | 8.145 mm | 6.700 mm |
| Itinerary (CFA system) | 15.900 mm | 15.800 mm |
| Speed (up/down) | 1,8/1,8m/min | 1,7/2,4m/min |
| Fastest Speed (up/down) | 15,5/15,5m/min | 20/20m/min |
| Main winch |   |   |
| Cable Standard  | M6/ L3 /T5 | M6/ L3/ T5 |
| Pressure/pulling (1st Layer) | 200 kN/ 250kN | 200kN/250kN |
| Cable diameter/length | 28mm/88m | 28mm/88m |
| Fastest Pressure/pulling speed | 81m/min | 81m/min |
| MAST TILT |   |   |
| Rear/ front/ tilt sides. | 15/ 5 / 5 | 15/ 5 / 5 |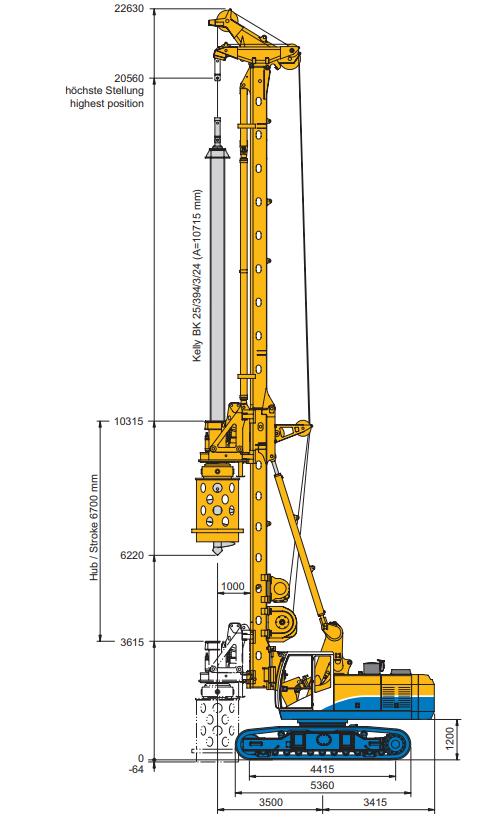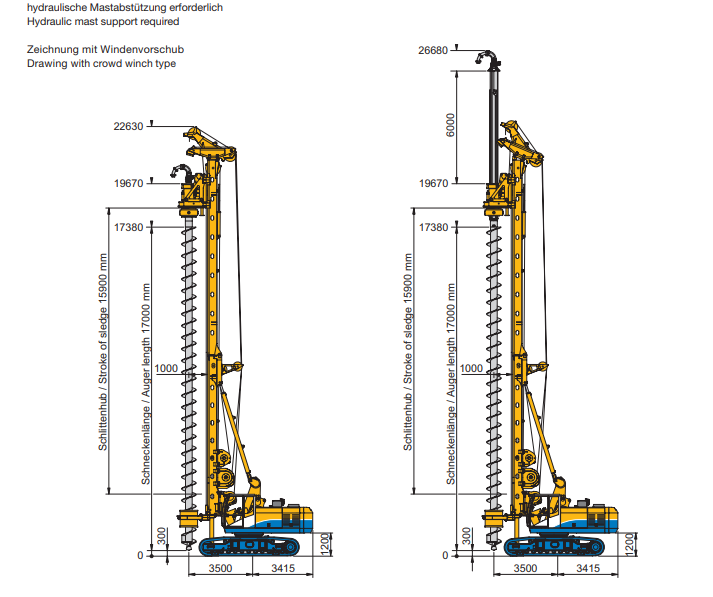 STANDARD DRILLING EQUIPMENT OF BG25 BORED PILE DRILLING MACHINE.
KDK 245 K bullhead of BG25 stuffed pile drill (single drive gear)
Main winch with main winch hydraulic cable tension operation mode and extra winch with special doughnut
Lifting limit switch located on the main and secondary winning mouse anti-twist cable for main winch
Fast or slow mode for bullhead press winch
The puli for main winch cable and winch
The racks for the upper and lower body of the mast.
BAUER BG25 MACHINE SPECIFICATION DISPLAY AND CONTROL
The standard display integrates the same display clock monitoring ability as the pump pressure gauge (3 gauges)
Displaying the error message
The x/y shaft measuring device (Digital display / analog)
Automatic vertical adjustment of the mast
The device measures the depth of the main winch
The mouse straightening function against torsion for the main winch.
BAUER BG25 BULL HEAD STANDARD
Built-in reduceer for kelly need
Abrasion resistant bars replaceable without the need to remove the bullhead
Can replace the kelly transmite
Can replace the lock need kelly
Coupling the post
There are quick removal couplings of hydraulic pipes 3 mode select operation
Carrier racks
Gear hanging wires for bullhead
BAUER BG25 Standard Base Machine Motor Monitoring Display System
Display Panel for Reusable Hydraulic Functions (6.2 tons 6.2 tons)
Can remove the 2-party chain frame
There are wire anchors when transporting chains
On the machine with the following sets of lights (there are 4 sets)
Each machine comes with a repair kit
Pump Pump electric fuel oil
Modern comfort driver's bin (950mm wide)
With head protection shield (fops standard)
Radio air conditioning system and CD player
Work floor (located next to and in front of the bin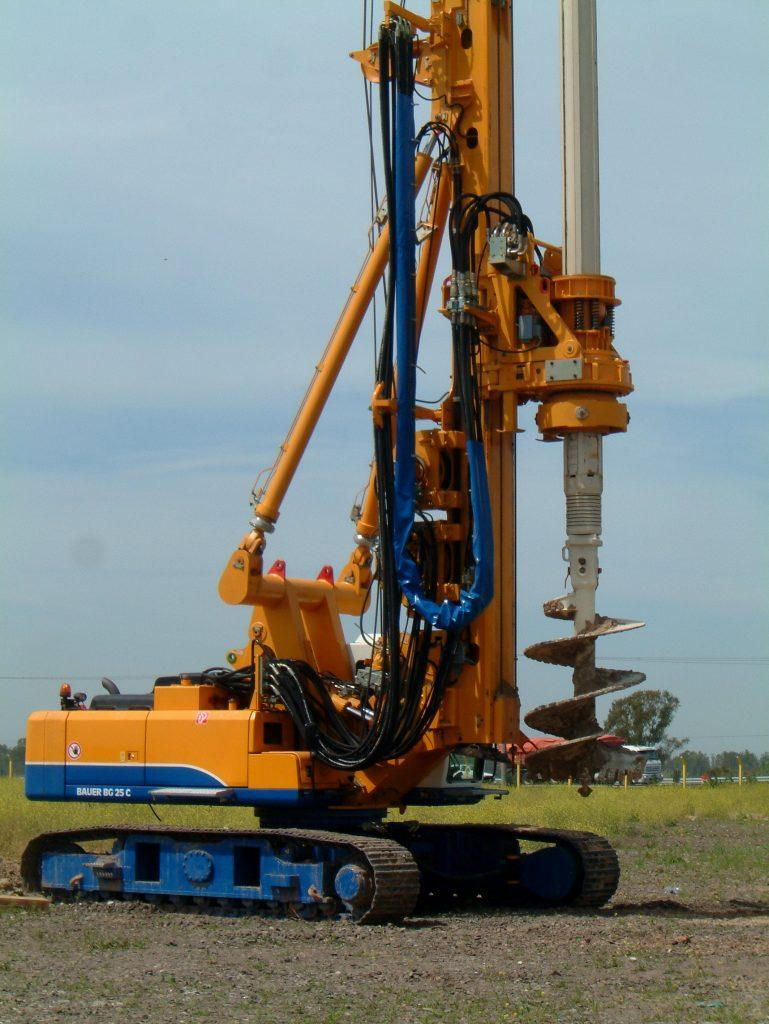 Photos of Bauer BG25: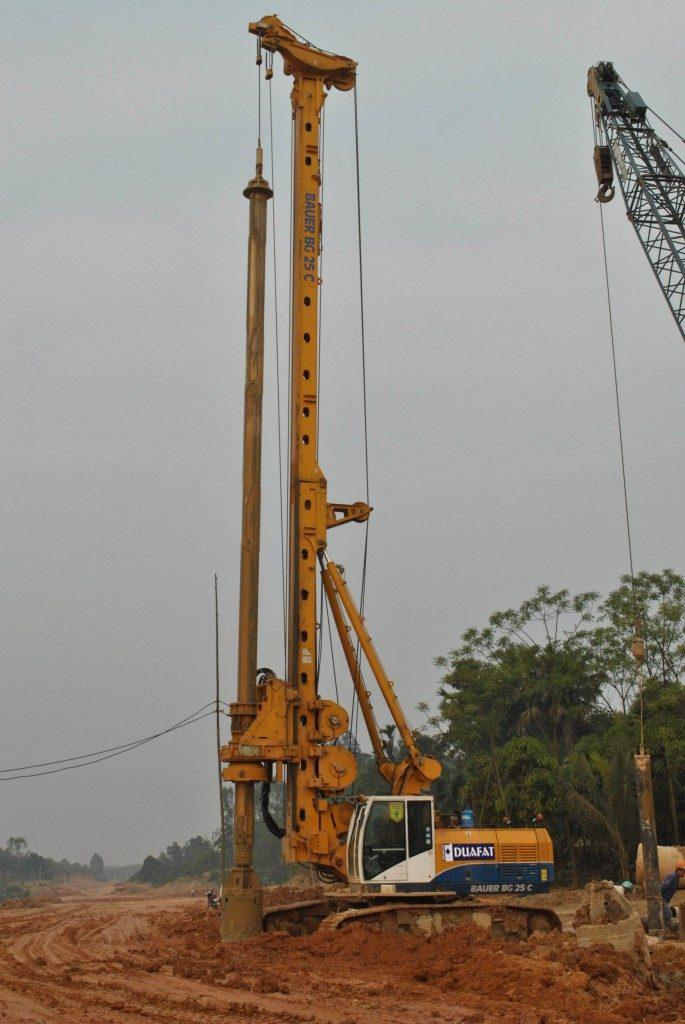 Bauer BG 25 on construction construction by Duafat