Foundation plays an important and decisive role in the quality, safety, and lifespan of construction works. Especially in recent years, with the increasing demand for building super projects, high-rise buildings, bridges, ports… the requirement for foundation quality has tended to rise.
To meet the strict criteria for foundation quality, construction units have had to come up with many solutions to meet the demand for a solid and high load-bearing foundation. At this time, bored pile construction has been widely applied in most large-scale, high-priority, and complex projects due to its flexible and productive capacity of using gigantic machines.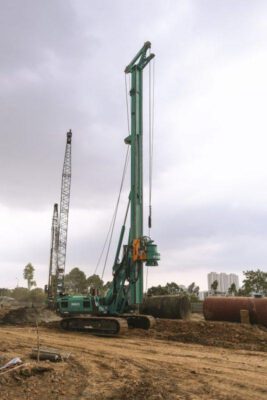 The pile drilling machine solves many difficult problems in the foundation part of construction works
Using the bored pile construction method brings many advantages in terms of structure and construction compared to current construction methods.
Advantages in terms of structure
Using the bored pile construction method brings better load-bearing capacity of 1-2 times compared to current conventional methods.
The settlement of bored pile construction is small, thus limiting the situation of pushing adjacent piles and ground heave on both sides. Therefore, it does not affect the existing piles in their position, nor the adjacent constructions.
Bored pile construction allows for the creation of various types of piles with flexible and large diameters, suitable for the requirements of different constructions.
Optimizing labor and construction costs. It is possible to save up to 30% of the cost for the foundation construction of the project.
Bored pile construction provides better load-bearing capacity and stability as concrete is poured in a continuous block, without the need for welding or joining, resulting in a large horizontal load-bearing capacity of the bored pile.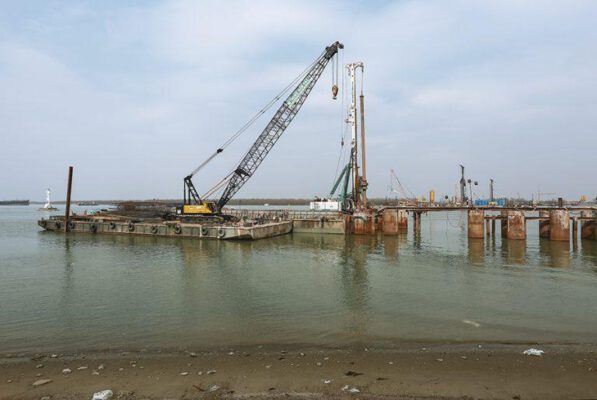 Meeting the construction demands in many different areas, from mainland, coastal areas to even weak terrain regions.
Advantages in terms of construction
This method can be applied to remedy and reinforce constructions with weak foundations or to build new constructions on limited areas.
During construction, the material's working capacity can be maximized, reducing the number of piles in the foundation significantly.
It is an optimal solution for construction in densely populated areas, difficult terrain, such as constructions built close to each other, houses in alleys, narrow streets, etc.
It minimizes noise and environmental impacts during the construction process compared to other methods.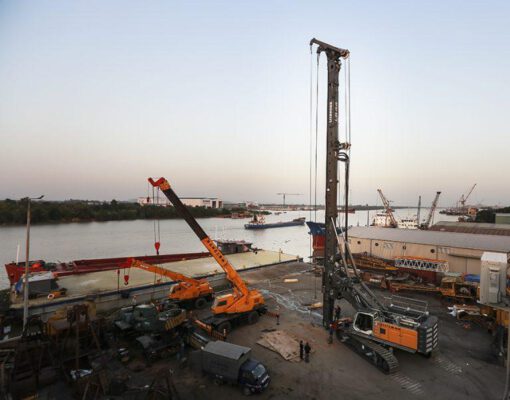 Help optimize cost, labor, and construction time
Always leading in technology and machinery in the field of foundation construction, bridges and ports, offshore wind power, Duafat Corporation regularly equips various types of equipment to constantly improve its capabilities. Among them is a large number of top-of-the-market pile driving machines.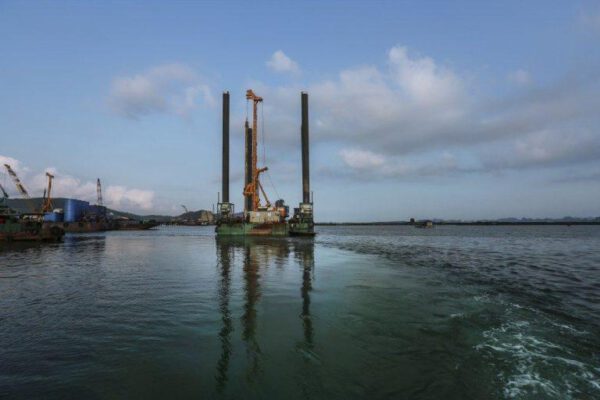 The leading position in the market is continuously updated as Đua Fat maintains comprehensive cooperation with major world-leading construction equipment suppliers such as Bauer, Casagrande, Liebherr, Sany, Sunward…
With the philosophy of always investing and bringing the latest and most advanced technologies in the world to Vietnam, up to the present time, Đua Fat owns the largest number of top-notch pile drilling machines in Vietnam, directly participating in the construction and contributing significantly to the success of many important projects such as Hoa Phat – Dung Quat Steel Production Industrial Cluster, Ca Na Port – Ninh Thuan, Xuan Thanh Cement Plant Complex, Hoang Huy Commerce High-end Apartment Project, Ecorivers Hai Duong Urban Area, Phuc Le Project, Tecco Bac Ninh Project, Mipec Riverside Long Bien Apartment Project…