INTRODUCTION
Machine Name: BAUER BG40
Origin: GERMANY
Production Year : 2014
Engine Model Line: BS100
With works with moderate construction volume such as projects on high-rise housing, apartments, drilling to strengthen foundations or works on bridges. BAUER BG40 has always been a solution that Duafat group always prioritizes.
The BS100 series of engines (one of the "senior" engines of the BS115 with "huge" stuffing pile drills such as BAUER BG42 or BG46) still shows a durable power, much superior to the models at the same time, BAUER BG40 is still a very good choice for construction corporations around the world. incuding Duafat.
BASIC PARAMETERS: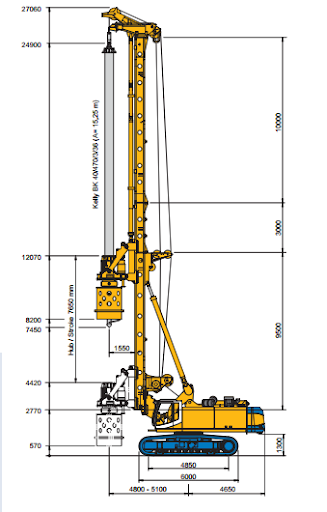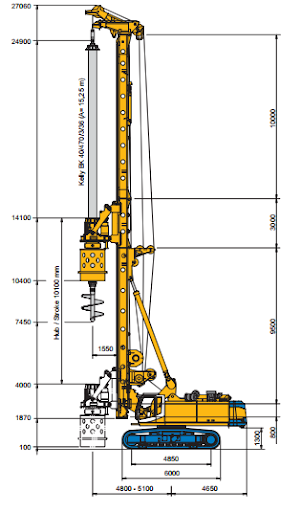 Basic Specs and /w Kelly Drilling Specs
 Operation Height (m) 

27,1

Twisted Torque (kW)

390

Engine wattage

(kNm)

433

Actual/nominal force of main winch(kN)

300 / 384

Actual/nominal force of optinal winch

(kN)

140 / 179

Push/Pull force of press winch (kN)

460/460

Winch stroke (m)

19,7

Or:

 

pressure cylinder force 

(kN)

270

pressure cylinder drag

 (kN)

400

Max Drill Diameter (mm)

2800/3000

Max Drill Depth (m) 

80,5

Engine

UW 130

Length of Chain (mm)

6.000

Width of Chain (mm)

3.700 – 5000

Width of the sprocket(mm)

1000

Operation Capacity (xấp xỉ) (t)

142
In which:
The maximum drilling depth of the machine is 80.5m, the maximum drilling diameter is 3000mm with hard rock geology, adding a drilling diameter booster that can be drilled 3300mm.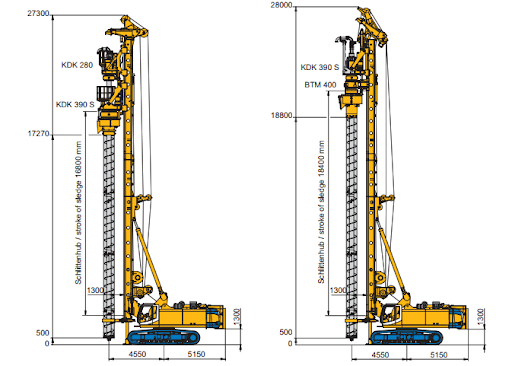 Comparison of parameters between KDK 390S (left) and KDK 390S BTM 400 (right)
| | |
| --- | --- |
| Diameter: 1180mm | 1180mm |
| Drilling depth: 16.30m | 17.90m |
| External transformation force: 1060kN | 1060kN |
| Related vertical movement between rotation directions: 550mm | 550mm |
| Operation weight: 159.000kg | 155.000kg |
BAUER BG40 – BS100 stuffing pile drill: Is a type of pile drill that must remove the entire upper part of the BAUER BG40 mast ideal for drilling drill holes with a large diameter or non-casting, drilling up to 200ft deep and withstanding the hardest rock strength.
The machine is also suitable for all specialized equipment such as Tower Crane System (CFA) or OMEGA Displacement Pile mobility systems as well as all sizes of Soil Mixers and Soil Mixers (CSMs).
Some photos of the BAUER BG40: