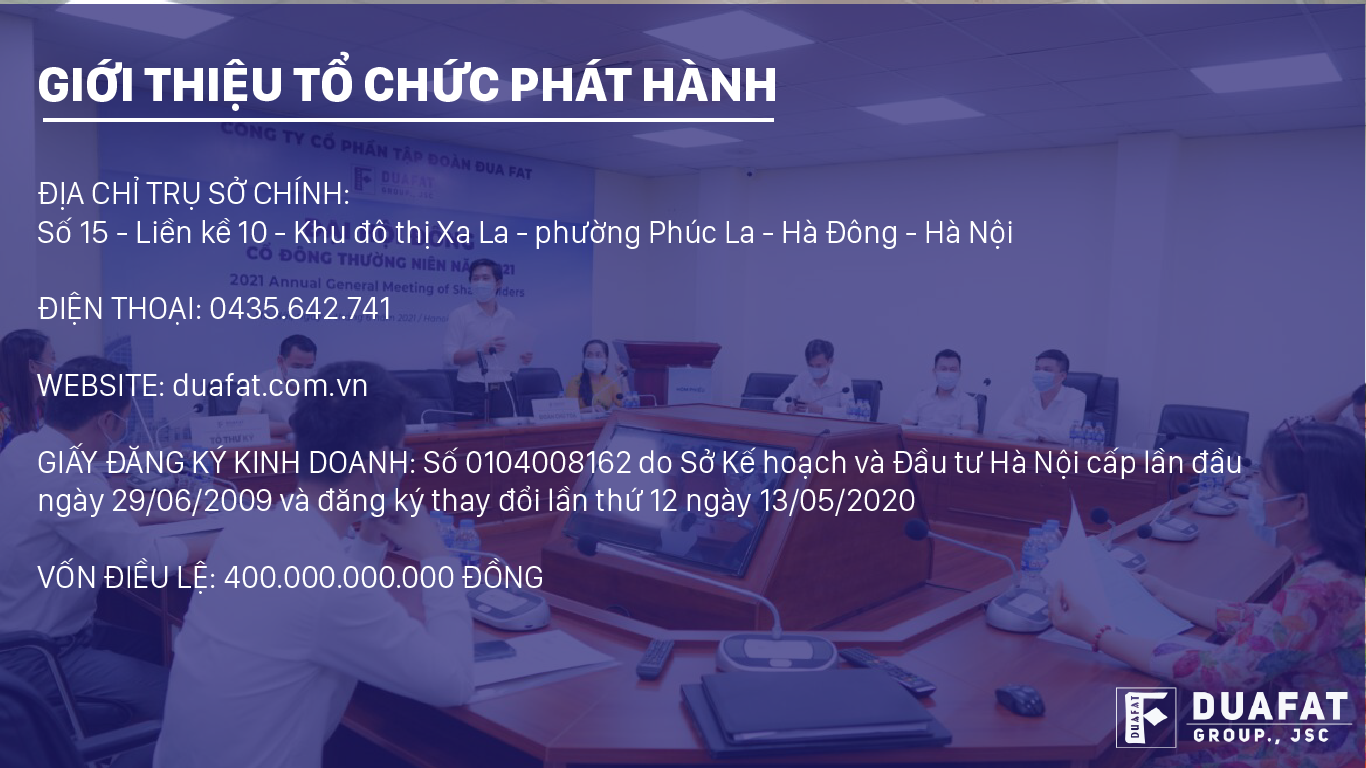 Summary of information about bond issuance:
    1. Issuers' name: Duafat Group Joint Stock Company
Head office address: No. 15, Adjacent 10, Xa La Urban Area Phuc La ward, Ha Dong district, Hanoi
Phone number: 02435.642.741
Fax number: 0435.642.731
Website: duafat.com.vn
2. Issuing consultancy:
Bao Viet Securities Joint Stock Company
Address: 2nd and 3rd Floors, No. 72 Tran Hung Dao, Hoan Kiem District, Hanoi City
Phone: (84-24) 3928 8080
Fax: (84-24) 3928 988
Website: www.bvsc.com.vn
3. Information about the bond offering:
Bond name: Bond name: DFFH2123001
Total issued bond data: 1,500 Bonds
Total expected issued value: VND 150,000,000,000
Issue date: 01/09/2021
Bond type: Bonds are non-convertible bonds, not accompanied by warrants, transferable, secured by Collateral issued and maintained in the form of certificates.
Face value: VND 100,000,000/bond
Bond term: Bond term is 18 months starting from issue date and ending on Maturity Date.
Interest rate: Bonds are paid periodic interest rate of 03 (three) months at a fixed rate of 11.75% per year, paid in Vietnamese dong.
4. Purpose of issuance: The Issueeer expects to use the proceeds from the bond issuance for the purpose of supplementing working capital, specifically as follows: Purchasing supplies for construction, Procurement of some equipment for construction, production and business, Payment to subcontractors

About the positive bond market
After 6 months of promulgating and implementing 3 Decrees regulating the offering and trading of corporate bonds (TPDN), the TPDN market has developed in the direction of publicity, transparency and risk reduction, creating favorable conditions for participants to raise capital in the market.
In the first 6 months of 2021, the volume of individual TPDN issuance was VND 168,702 billion; an increase of 3.2% over the same period in 2020; the volume of public issuance is VND15,375 billion, equivalent to 50.3% of the issue volume of 2020, accounting for 8.3% of the total volume of tpdn issued. This shows that initially there is a shift from individual release to public release, which is a good signal in the TPDN market.
Credit institutions are the largest issue providers accounting for 40.2% of total issuance volume; the volume of bonds of real estate enterprises decreased by 55.5% compared to the same period in 2020 (accounting for 13.2% of the total issued volume).
The average issuance rate in the first 6 months of 2021 was 7.9% per year, down 1.6% per year compared to the same period in 2020 (9.5% per year). In terms of investors, securities companies are the main investors in the primary market, accounting for 44.4% of the total issued volume, credit institutions account for 25% of the total issued volume.
About the Issueer: