As a typical, important and essential device in construction, lifting and handling of goods, the chain hoist (or chain crane) is highly valued by investors for its ability to operate in all terrains. Whether it's flat, rough, steep or weak terrain, the chain hoist can still cling firmly to become a sturdy support and create lifting force for the crane.
The chain hoist is a type of crane with chain tracks connected by chain links, used to move and lift heavy materials in construction sites. Chain hoist cranes move slowly but have the advantage of working on many complex and rough terrains such as soft soil, hills and are often used to build high-rise buildings, manufacturing plants, bridges, roads and other constructions.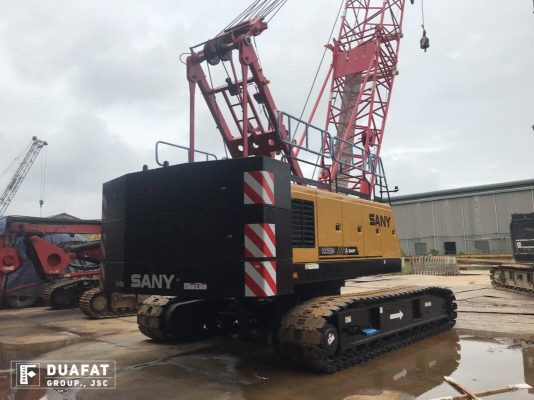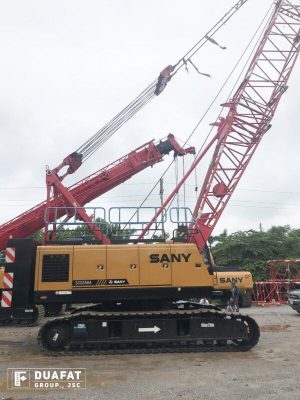 There are currently many types of crane on the market with different load capacities designed to meet the specific needs of each construction site, depending on the terrain and purpose of use. Manufacturers typically produce crawler cranes with large load capacities ranging from tens to thousands of tons for use in construction sites that require less frequent movement.
Some typical load capacities include: around 45 tons, 50 tons, 100 tons, 200 tons, 250 tons, and even larger capacities of up to 400 tons or 500 tons. These special cranes possess high mobility and the ability to move within a relatively wide range.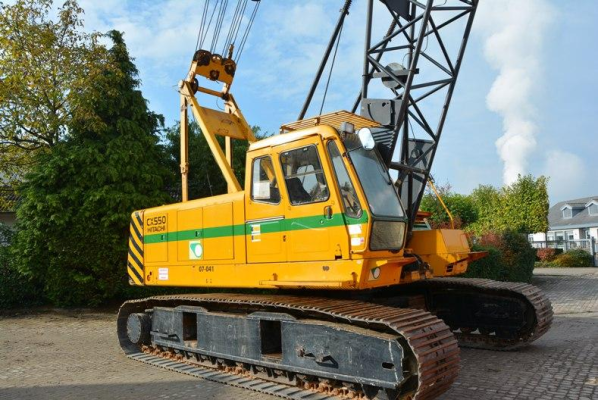 Some common types of crawler cranes
Small crawler crane: This is the smallest type of crawler crane and is used to build small structures. They have lifting capacities ranging from 1 to 10 tons and are often used in small-scale construction projects such as houses and small infrastructure projects.
Medium crawler crane: This type of crane has a lifting capacity of 10 to 50 tons and is used to build larger structures such as factories and bridges.
Large crawler crane: This is the largest type of crawler crane and is used to build very large structures such as power plants and chemical plants. They have lifting capacities ranging from 50 to 1000 tons.
Support crawler crane: This type of crane is used to assist other types of cranes when lifting heavy objects and is equipped with support equipment such as cables and supports.
Chain hoists are an important part of the construction industry and have been used for many years to build important projects worldwide. In Vietnam, various types of chain hoists are imported. Some of the brands that can be mentioned are: Zoomlion, Hitachi, Kobelco, Sumitomo, IHI, Nippon sharyo, Sany, Demag…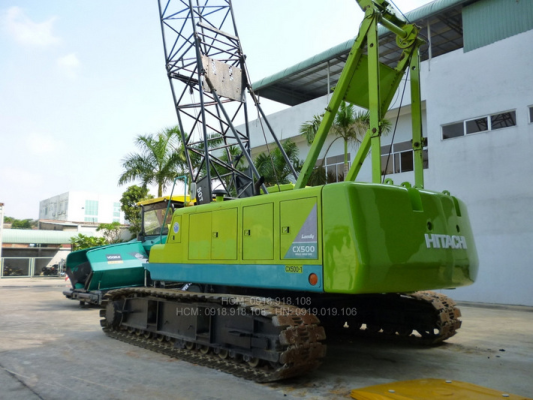 Features of a crawler crane
A typical crawler crane will include an upper carriage mounted on a crawler chassis. The upper carriage and attachments such as the boom, counterweight… can rotate 360º. The crawler chassis has a design of a tubular or straight bone-like boom and it can be equipped with an optional auxiliary boom (fixed or mobile).
This equipment does not use tires to move, but it uses chains similar to other construction machines such as excavators or graders.
The optimized design of the tubular or straight bone-like boom makes the crawler crane have a lighter arm than other types of tubular boom cranes and allows them to reach much higher than other types of cranes.
Specifically, the chain hoist is designed with chain wheels that provide wider contact surfaces, making it more stable and without the risk of tipping over like tire hoist cranes. This makes the chain hoist suitable for construction applications that require high stability.
Additionally, another advantage that makes this device a popular choice for main contractors is its lifting capacity and durability. Even in construction environments that are exposed to climate and chemical influences, the stability and flexibility of the chain hoist are reasons why this "giant lifting arm" can be found on many construction sites and is the perfect tool for keeping the construction schedule on track.
Recognizing the advantages of this special type of equipment, Dua Fat has continuously added top brands of chain hoists from world-renowned manufacturers such as Hitachi, Kobelco, and Sany to its equipment system.
In Vietnam today, Dua Fat is proud to be one of the leading companies in the field of foundation construction, ports and offshore wind power, owning a large number of top-ranked chain hoists. With a variety of load capacities and brands, the chain hoist has conquered many super-heavy and oversized projects with Dua Fat, accompanying reputable investors to bring the projects to completion ahead of schedule.