Project Information
Location: Vo Thi Sau Street, Phuoc Hai Town, Dat Do District, Ba Ria – Vung Tau Province
Total area: 73,842 m2
Total investment capital: 3,500 billion VND
Investor: Phat Dat Real Estate Development Joint Stock Company
Type: Condotel apartments
Sereity Phuoc Hai has a prime location on Vo Thi Sau street. The project combines many elements to create a prosperous urban area, such as its prime location on Vo Thi Sau street, right by Phuoc Hai beach, surrounded by residential areas and major transportation routes like QL 51, QL 55, QL 56.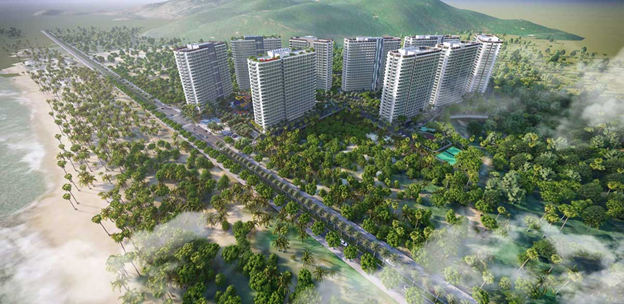 Project landscape
The investor of the project is Phat Dat Real Estate Development Corporation – a leading real estate, industrial park and warehouse developer in Ba Ria – Vung Tau. In the key economic area in the south, Phat Dat is a prominent name with a series of famous projects in Hue, Da Nang, Quy Nhon, Binh Duong, Quang Ngai, Binh Dinh, etc.
Serenity Phuoc Hai is an important step and a milestone in affirming Phat Dat Group's new progress as a developer creating a project with a heart, an ideal place to settle and invest.
The construction process also encountered many difficulties because the survey results showed that it was necessary to drill 30m into the pile to ensure the quality of the foundation. Meanwhile, the rock strength is very strong, compressing the rock sample up to 2000 kg/1 cm2.
In phase 1 of the project, leading experts in the field of foundation, with a team of experienced construction staff at Dua Fat, carried out drilling and pile driving methods with a system of specialized and most advanced equipment in the world such as Bauer BG 46/42/36, Liebherr LB44/36 and exclusive machine systems developed for the geology of Vietnam by Dua Fat.
The unity and sensitivity of the technical team and construction staff at Dua Fat have "leveled everything", bringing phase 1 of the Serenity Phuoc Hai project to completion on June 19, 2022.
Images of phase 1 construction of the project.