Faced with the fierce rainstorms and floods in recent years in the Central region, from 07/11 to 09/11/2020, Duafat Group JSC in collaboration with TC Investment Cooperation Trading Co., Ltd. and Buddhist Monks and Nuns, enterprises in Ho Chi Minh City. Hanoi and Ho Chi Minh City Ho Chi Minh city co-organized the charity program "Bring love to the Central" with a total funding of more than VND 1.1 billion.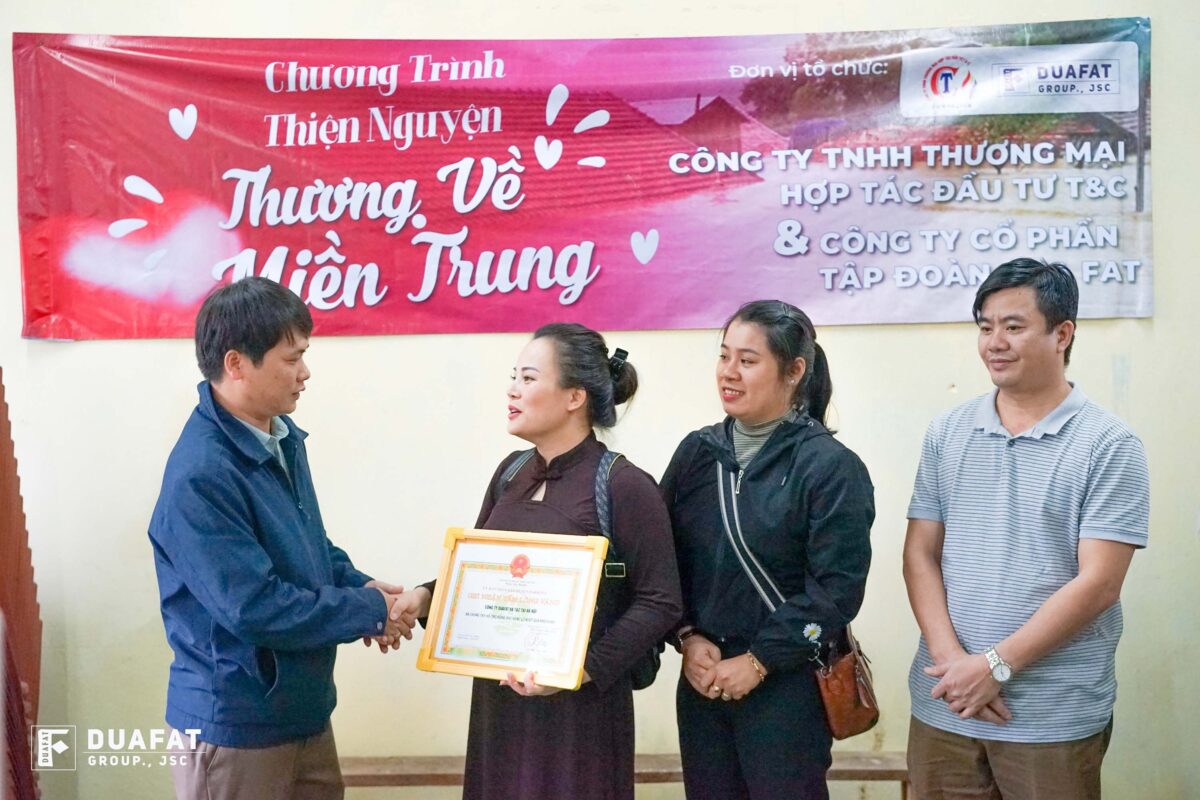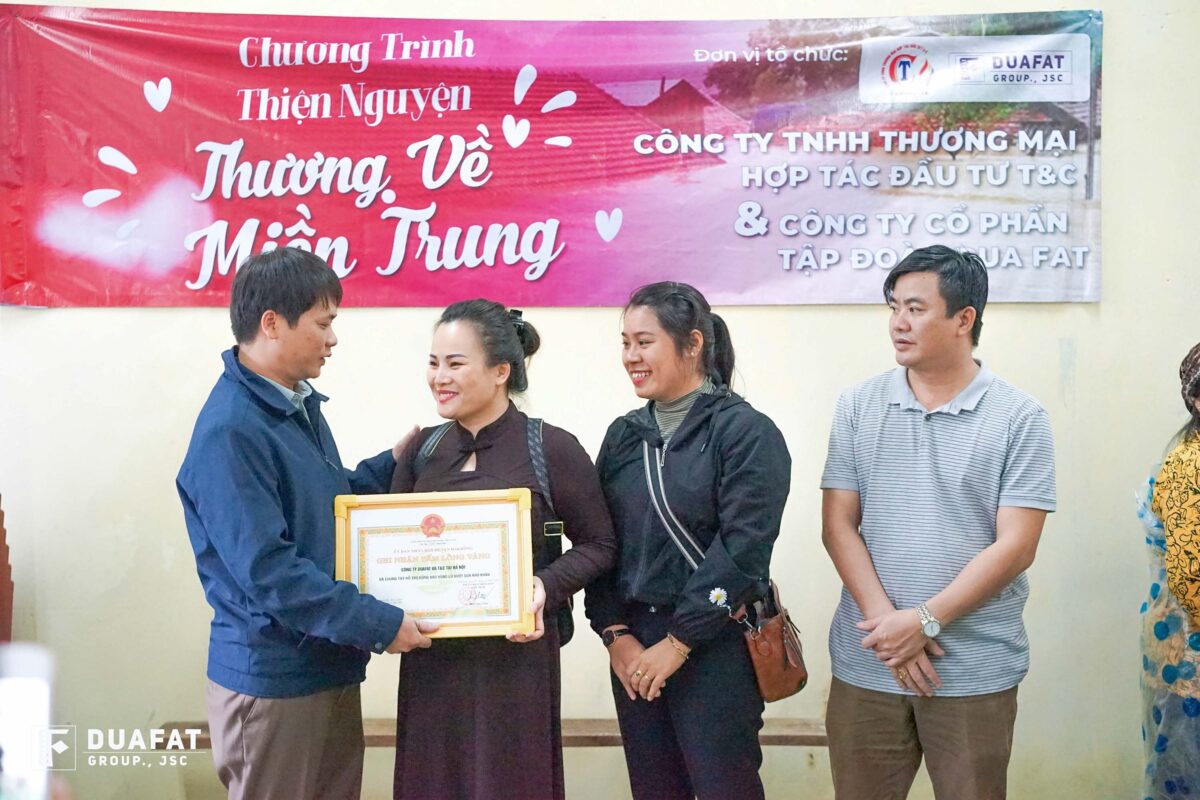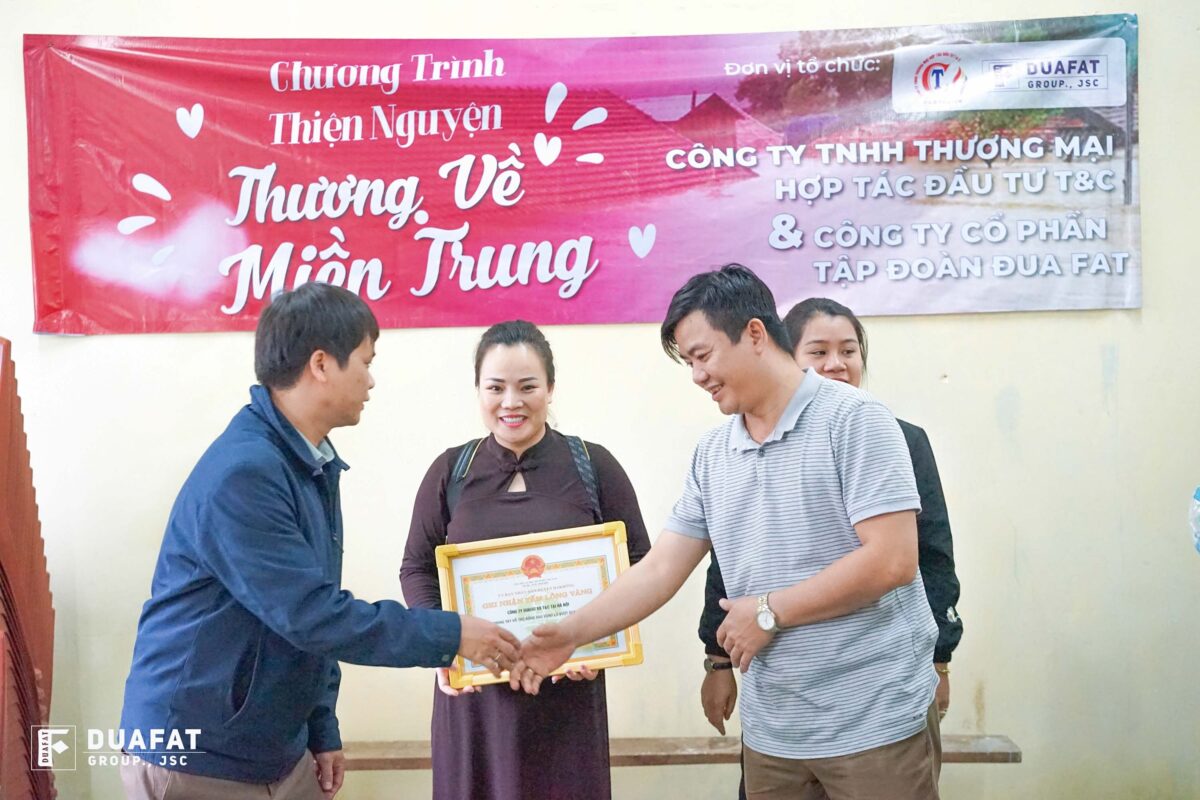 Representatives of the local government awarded certificates to the Delegation Duafat & TC
Share difficulties, together with the whole country towards the Central Region
With the spirit of solidarity, "The leaves protect tattered ones", Duafat and TC delegation did not mind heavy rain, wind and geographical distance , go into the flood zone to volunteer "Bring love to the Central" to support relatives to overcome after natural disasters, floods, soon restore production and stabilize life.
The charity delegation of the company after arriving in Hue together with Buddhist monks and nuns and businesses in Ho Chi Minh City and Hanoi departed for localities in Quang Binh and Quang Tri provinces in collaboration with local authorities to give gifts and support at villages, schools, households and children suffering from Agent Orange which was directly affected during the last flood.
Duafat and TC supported with a total cost of 450 million VND, specifically as follows:
At A Rong supported 200 capacity, each household consisted of clothes, 10kg of rice and 500,000 VND in cash.
At Khe Xong, 400 slots are supported, each household consists of clothes, 10kg of rice and 500,000 VND in cash.
At Krong Klang Town Kindergarten, A Rong School donated milk, confectionery and 5 million dong in cash.
At Krong Klang Primary School, A Rong School donated 1,200 books, 1,200 pens and 10 million VND in cash.
At Phong Thủy Kindergarten, Feng Shui commune, Le Thuy district, Quang Binh supported 10 million dong in cash.
In Vinh An village, Cam Hieu commune, Cam Lo district, Quang Tri province shared patients affected by Agent Orange with the amount of VND 20 million in cash.
Mr. Do Van Manh – Deputy Secretary of the Party Branch of Duafat handed over the support money to each family of A Rong village
With the right spirit of the company, Duafat will always accompany and support the difficult circumstances, overcome the flood season, as well as spread human values to society. A gift of the spirit of love given, a material gift shared to people in the name of life, love and faith to stay both with the giver and the recipient. Hope the central people soon through this disaster and soon recover stable life.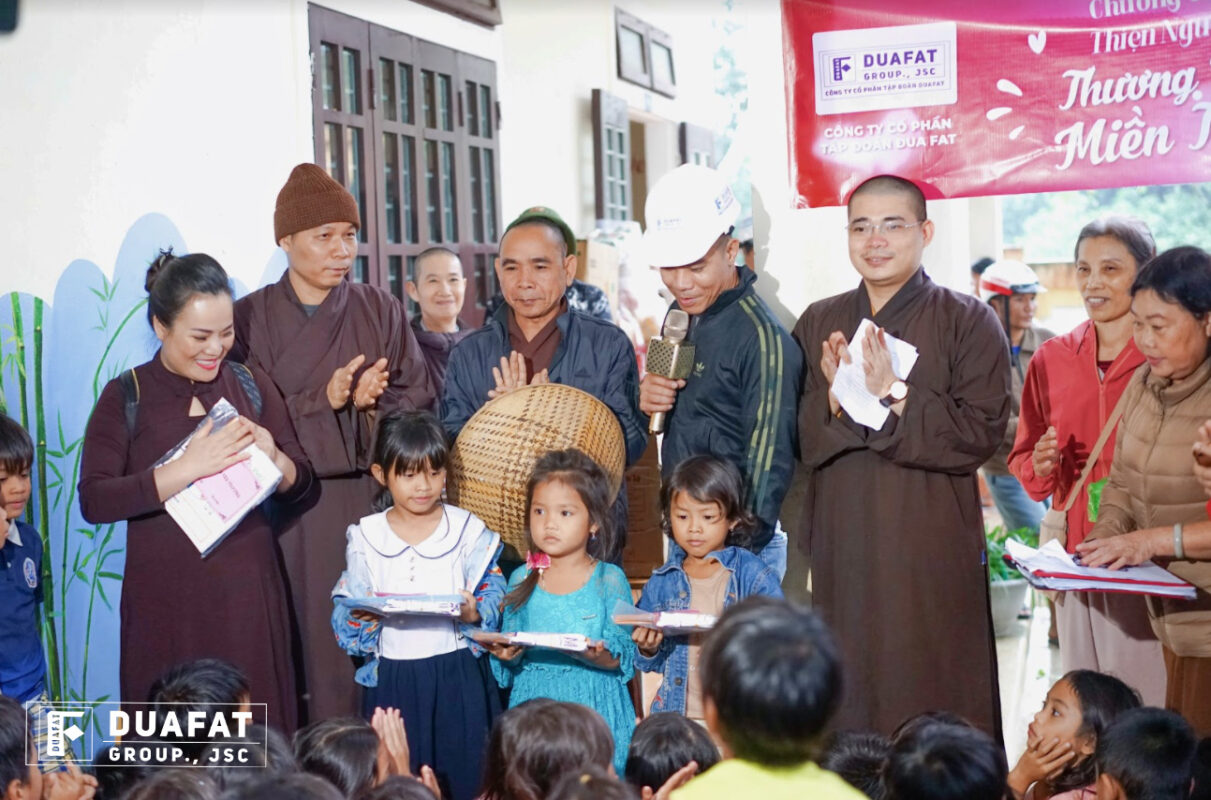 Ms. Nguyen Thi Minh Tan – General Director of TC gave gifts to the children of Krong Klang Primary School in A Rong School
The images of the charity trip of DuaFat Group and TC Company:
Reporter of DUAFAT's PR team